PLASTFARM company is prepared for co-operation in order to create the highest standard containers for pharmaceutical, cosmetics and food industries.
We are fully prepared for providing complex client service at each cooperation stage, from needs estimation through professional technical counselling, designing, manufacturing and obtaining certificates for finished products.
By using the latest generation injection moulding machines we can guarantee the highest quality of our products. Production sterility, workmanship precision, ideal repeatability and an easy production profile change are the features thanks to which we can cope with the most difficult challanges posed by our clients.
The most modern technological thought is employed in the production of our articles. We produce the containers in any sizes and shape for pharmaceuticals, cosmetics and food products according to our client's design. We can also design the container by ourself to meet the desired constructional and technological requirements.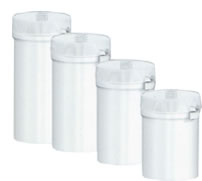 Our containers are made of the best quality PP and PE. We propose of 45 ml, 65 ml, 80 ml and 100 ml.
Containers have lids with guarantee rings in several types::
with damper
with drying mean fine-cristalline
with drying mean granulated.